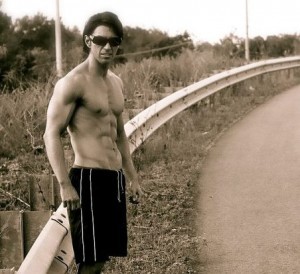 Thanks for visiting my website.
I am Justin Groce and I have been training clients for years now ranging from those in the general population to those undergoing rehabilitation.
I created this website as a platform for people to learn and explore all facets of exercise science, health and wellness, and sports nutrition research.  However, I'm a bit of a science nerd……….maybe "a bit" is an understatement.  After all, I actually do have a favorite amino acid.  Leucine, of course!
I understand that the fitness and nutrition biz is loaded with "experts" and "gurus," may of who don't actually have any formal education or credibility in the biz.  How do you know that I'm not a quack??  You don't.
But I don't claim to be an expert; I simply disseminate research into easily digestible reads.
One of the greatest qualms I have toward the fitness and health science is the quarrelsome nature of such-and-such workout vs. this-and-that diet.  The fitness realm is often far too contentious about what works, whose method is the best and nutrition.
My goal is to simply all of this and make life much easier for you.
There's too much BS on the internet regarding exercise, nutrition and likewise.  There's too much marketing hype and too much quarreling within this field.
So here's a little bio….
I started at the age of seven when my mother introduced me to martial arts.  After being picked on too much and the dire need to expend bound-up energy my parents felt martial arts would be a good decision.  By 13 I had attained my third 2nd-degree black belt (Tang Soo Do, Tae Kwon Do, and Shorin-Ryu).
By time I reached college I was a rather skinny kid (5'7 and 130lbs) and wanted this to change.  Due to my college schedule along with work I wasn't regularly practicing martial arts therefore I started frequenting the college's gym.
For the first few years I didn't have a clue what I was doing, but I soon fell in love with it.  At this point I announced my college major to be Exercise Science.  From hounding professors for knowledge to learning from of the student-athletes I was hungry to learn more.
After graduating with a bachelor's in exercise science I started training all kinds of clients – newbies, seasoned athletes, and those with chronic diseases.  I have presented continuing education seminars all over Tennessee teaching other personal trainers, sports nutritionists, and other fitness professionals courses relating to personal training and exercise science.  I've also published for the Sports Nutrition Insider, been printed in Flex Magazine, write for STACK and have a couple e-books.
I'm a Registered Nurse (RN) in the state of TN and a graduate of Vanderbilt University as an Adult-Gerontology Nurse Practitioner. Currently, I'm working as a primary care nurse practitioner blending exercise, nutrition, holistic, and conventional medicine to help clients attain the greatest well being.