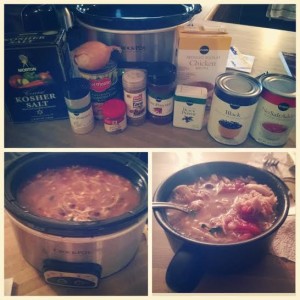 Chicken taco soup (makes 8 servings)
Ingredients:
4.5 cups (40oz) low-sodium chicken broth
1 (14.5oz) can diced tomatoes
3/4 cup finely chopped yellow onions
1 (14.5oz) can black beans
2.5 tsp chili powder
1.5 tsp cumin
3/4 tsp paprika
1/2 tsp coriander
Salt and pepper to preference
1.5lbs chicken breast
1 cup canned (or frozen) corn
1 tbsp lime juice
1/4 cup chopped cilantro
Directions:
1) Pour chicken broth, diced tomatoes, onion, garlic, cumin, paprika, chili powder, salt, pepper, and coriander into the Crock Pot.  Set to low heat for 6 hours.
2) After the six hours have expired remove the chicken and begin shredding it (or pulling it apart to preference).  Return the chicken to the Crock Pot along with the cilantro, corn, black beans, and lime juice.  Stir the contents and cook for another 20-30 minutes.
3) Separate into 8 containers and enjoy.
Each serving:  209 calories, 4g fat, 15.2g CHO, 30.9g protein