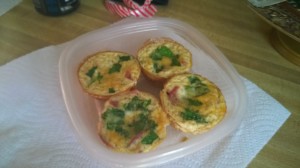 Ingredients:
3 large whole eggs + 7 egg whites
2 pieces Jennie-O turkey bacon
¼ cup chopped onion
¼ cup chopped bell peppers
¼ cup chopped tomatoes
¼ cup Kraft shredded reduced fat 2% cheese
Muffin pan – 12 spaces
1) Pre-heat oven to 375 degrees.
2) Begin cooking turkey bacon on a non-stick pan.  Preferably use a ceramic pan since they require much less oil than other pans.  While waiting on the turkey bacon to cook mix all of the eggs into a bowl and beat vigorously.  Add dash of salt and pepper as you please.
3) Chop up the cooked turkey bacon into little pieces.
4) Now throw in all of the chopped veggies, turkey bacon and cheese into the egg mixture.
5) Spray a muffin tray with olive oil.  Ensure that each individual muffin space is thoroughly covered with olive oil.
6) Pour the egg mixture into each of the muffin spaces and place in oven for 12-16 minutes or until each muffin is firm.
For 12 muffins:  597 calories, 32.7g fat, 14.3g CHO, 65.1g protein
Each muffin:  49.8 calories, 2.7g fat, 1.2g CHO, 5.4g protein
One serving (2 muffins):  100 calories, 5.4g fat, 2.4g CHO, 10.8g protein