This recipe is to make one serving (2 tacos)
Ingredients:
La Banderita flour tortillas (2) – 156, 2, 30, 6
1oz shrimp (about 5-7 shrimp) – 30, 0.5, 0.3, 5.8
1/4 cup diced tomatoes – 8, 0, 1.8, 0.4
1/4 cup diced lettuce – 2, 0, 0.4, 0.1
1tbsp (0.5oz) Kraft 2% mild shredded cheddar – 40, 3, 0.3, 3.5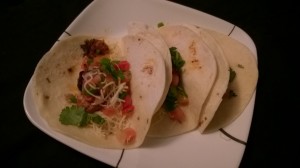 1) Preheat oven to 300 degrees and begin chopping your veggies.
2) Place a tortilla on top of a piece of aluminum foil, place a piece of foil on top of that tortilla.  Now repeat the process for the second tortilla.  Now fold the edges of the foil creating an air tight pocket in which the tortillas will be baked inside of.  This will prevent moisture loss when heating the tortillas.
3) Cook the shrimp on med-high preferably in a ceramic non-stick pan as these types of pans need very little spray oil to get the job done.  Continue cooking until the shrimp begin becoming pink in color; at this time lower the heat to low.  Add spices and lemon/lime squeeze as you please.
4) Whilst the shrimp are cooking on low place the tortillas in the oven for 3-5 minutes.
5) Remove the tortillas and place lettuce, shrimp and tomatoes on each tortilla.  Take 1tbsp of Kraft 2% cheese and disperse it between the two tacos.
6) Yum status.
2 tacos (1 serving):  236 calories, 5.5g fat, 32.8g CHO, 15.8g protein